Watermelon Salad Made Sweet and Tangy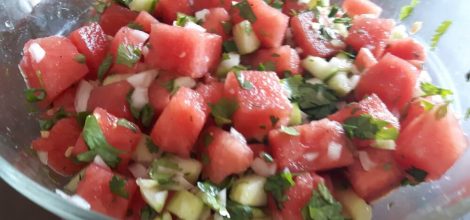 Are you craving something sweet and tangy, but don't want a processed treat? Check out this sweet and tangy watermelon salad. Very refreshing and will amaze your guests! This is a quick summertime recipe that is sure to please the entire family. It's simple to make and takes mere minutes to create. This is a dish best served cold; let us know if you tried making it and what you think in the comments below… let's get started!

Watermelon Salad Recipe
It's summertime in Montana (or it's deep-freeze winter, and you want to pretend it's summer) you'll love this watermelon salad recipe. Let's get started, check on these ingredients:
Watermelon Salad Ingredients
Not too precise, but you do you. Putting all the ingredients together will take only a few minutes.
---
Fruit and Veg Ingredients:
4 Cups Diced Watermelon (1/2″ x 1/2″ chunks)
4 Cups Diced Cucumber (1 Large cuke should do)
1/2 Cup Chopped Cilantro
1/2 Cup Finely Diced Vidalia (or other sweet) Onion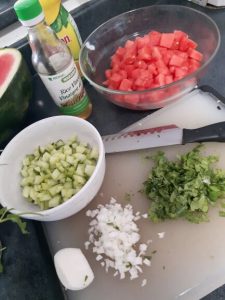 Wet Ingredients:
5 Tablespoons Rice Wine Vinegar
1 Teaspoon Lemon Juice
3 Teaspoons White Sugar
1/4 Teaspoon Pepper
1/2 Teaspoon Salt
Utensils Needed:
1 Large Mixing Bowl
1 Small Bowl
Spatula
Measuring Cups and Spoons
TIP: Mix gently so as not to crush the watermelon chunks.
Watermelon Salad Recipe Instructions
Pre-cut cucumber, cilantro, onion and watermelon. Add all to a large mixing bowl. Don't need to mix yet. Sprinkle with salt and pepper. Set to the side.
In a small bowl, add the rice wine vinegar, lemon juice, sugar. Stir and let sit for a moment to ensure the sugar has dissolved – about 5 minutes.
Pour the vinegar mix over veg and watermelon.
Using a soft spatula, gently mix the ingredients, ensuring all are coated.
Place in the fridge for two hours, or, you can eat straight away. Best served when cold though
When Serving: best to give a quick stir with your spatula prior to serving.
We hope you find this recipe useful and helps to make a watermelon salad for friends and family. Let us know in the comment section below if you'll try this homemade watermelon salad recipe! Please also take a moment to share this recipe with your friends and family on Facebook, Instagram, Pinterest and Twitter!