Montana Beer Bread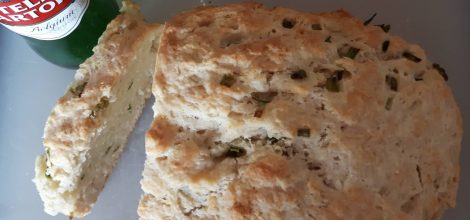 Did you just find a bottle of beer in the back of a cabinet? Don't throw out that beer! Make this Montana Beer Bread instead! Prep time is only a few minutes and this beer bread version is thick and moist. This bread requires no yeast; the yeast is in the beer. This bread goes great with just about any meal and is super simple to make. The ingredients list include staple items that most everyone has in their pantry. This easy Montana Beer Bread will take you mere minutes to make; let us know if you tried making it and what you think in the comments below… let's get started!

Montana Beer Bread Recipe
When you don't have yeast, and want some delicious bread, this is the go to recipe. One of the bread recipes we'll be sharing with our guests at the 406 Cafe. Follow these simple bread-making instructions and you'll have made the most delicious bread. Do not use light beer, or any diet beer. If you have a skunky old can of beer you don't want to wash your hair with, make some bread. Let's get started, check on these ingredients:
Beer Bread Ingredients
These measurements are precise. The ingredients list should be followed to ensure a great bread that will rise to the occasion. Since yeast has run scarce lately, we're going to use the yeast in the beer to give this bread its' fluff and rise. Mixing everything together should take only a minute = NO KNEADING!
---
Dry Ingredients:
3 Cups All-Purpose Unbleached Flour
3 Teaspoons Baking Powder
1/4 Cup White Sugar
1/2 Teaspoon Salt
Wet Ingredients:
1 12oz. Bottle or can of (good) beer
1/2 Cup Melted Butter
OPTIONAL: 1/4 Cup of Melted Butter for topping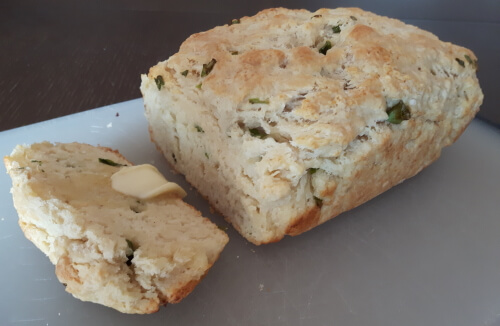 Utensils Needed:
8″ x 4″ bread pan (or glass pan, which is what was used for this recipe)
1 Large Bowl
Sifter
Spatula
Measuring Cups and Spoons
Parchment Paper 8″ x 4″ rectangle
TIP: Add in any kind of flavor you like while mixing. You can try diced onion, diced green onion, dried/fresh basil… the sky is the limit with taste.
Bread Recipe Instructions
NOTE: When using flour, always spoon into measuring cup, then sift into bowl. Sifting helps keep the flour from compacting and turning your bread or other baked goods into biscuits.
Pre-heat oven to 375˚ Fahrenheit. Line your 8″x4″ pan with parchment paper or grease the sides with a bit of butter (do not flour).
YOU MUST SIFT! Sift all dry ingredients into a large mixing bowl. Using spatula, mix well to incorporate any optional seasonings.
Add in the 1/2 cup of butter
Add in the bottle of beer and mix for 1 minute.
Go wet your hands… you're now able to remove the dough and place into pan; pat in areas to fill out pan.
If you're using the optional 1/4 cup of butter topping, you'll pour this right on top of the dough. Try to get equal coverage.
Place in oven on MIDDLE RACK. Bake for 45 minutes
We hope you find this recipe useful and helps to make a great loaf of bread for gravy dipping that your friends or family will enjoy. What do you think about this homemade Montana Beer Bread recipe? Please let us know in the comment section below! Please also take a moment to share this recipe with your friends and family on Facebook, Instagram, Pinterest and Twitter!