Easy Chocolate Cake (No Eggs, Butter or Milk)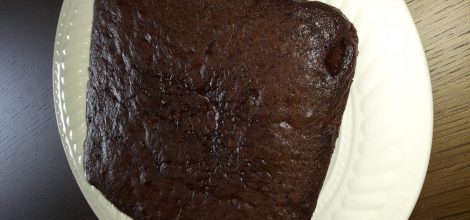 CHOCOLATE CAKE! When you find yourself running low in expensive wet ingredients and want a simple, easy to bake, chocolate cake, look no further. This easy 406 Cafe cake recipe has zero eggs, butter or milk in the ingredients. Follow along and impress your family and guests. You can make this cake in less than 30 minutes… let's get started!

Easy Chocolate Cake Recipe in the 406
There are those times when you don't have enough eggs or milk and don't want to use up the last of the butter for baking. But, then there are those times you're craving a great chocolate cake. The gang at the 406 Cafe have a simple solution. Follow these simple cake-making instructions and you'll have made the nicest, most moist chocolate cake ever! To start, be sure you have the following ingredients.
Chocolate Cake Ingredients
These measurements are precise. These are regular ingredients most home cooks have on hand. This recipe does not include any eggs, milk or butter. We're simply using the baking soda and the vinegar to give this cake the rise it needs. We want to add the warm water to the wet ingredients mix so they break down faster. Be mindful that the vinegar is the last thing you'll add to the final bowl. This step should take less than 60 seconds of mixing.
TIP: Add in the white vinegar as the last ingredient and don't over-mix!
---
Wet Ingredients:
1 Cup of Brown or White sugar
1/3 Cup Vegetable Oil
1 1/2 Teaspoon Vanilla
1/2 Teaspoon Salt
1 Cup of Warm Water
1 Tablespoon White Vinegar (ADDED TO MIX AT THE VERY END – DO NOT MIX WITH WET INGREDIENTS)
(OPTIONAL) 1 Teaspoon Instant Coffee
Dry Ingredients:
1 1/2 Cups All-Purpose Unbleached Flour
1 Teaspoon Baking Powder
1 Teaspoon Baking Soda
4 Tablespoons Cocoa Powder
OPTIONAL: 1/2 Cup Chocolate Chips
Utensils Needed:
8″ x 8″ Cake pan (or glass pan, which is what was used for this recipe)
2 Large Bowls (1 to mix dry ingredients and 1 bowl for wet ingredients)
Sifter
Spatula
Measuring Cups and Spoons
OPTIONAL: Parchment Paper 11″ x 11″
---
Cake Recipe Instructions
Pre-heat oven to 340˚ Fahrenheit. Line your 8×8 pan with parchment paper or simply grease and flour.
Sift all dry ingredients into a large mixing bowl. If you're using the optional chocolate chips, add those in at this time. Using spatula, mix well to incorporate the cocoa powder; set aside
In the other large bowl, add the sugar, salt, vegetable oil, vanilla (and optional instant coffee); mixing well.
Add in the cup of warm water and mix for 1 minute. This should be enough time to melt down the sugar.
Combine the wet ingredients to the dry. Using a spatula (or spoon), mix well for 20 seconds.
Drop in the white vinegar and mix well for another 30 seconds. Do not over-mix.
Pour the cake batter into the 8″x8″ pan. Immediately place on MIDDLE RACK in oven.
Depending on your oven, this chocolate cake may take 22 to 26 minutes to bake.
We hope you find this recipe useful and helps to make a great chocolate cake your family will enjoy.
What do you think about this homemade easy chocolate cake recipe? Did you know that it's also vegan (if you don't add the chocolate chips). Please let us know in the comment section below! Please also take a moment to share with your friends and family on Facebook, Instagram, Pinterest and Twitter!